About Foodservice Safe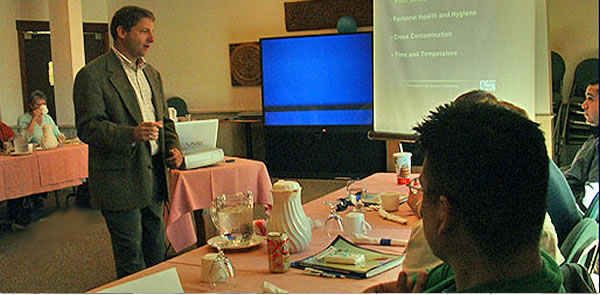 At Foodservice Safe, LLC, we go beyond the classroom to guide you through the entire process and ensure your success. For over 15 years, we have helped clients navigate through the curves of food safety training, so you can focus on what you are best at – running your operation.  We are dedicated to ensuring you and your employees are well prepared in keeping your business safe and successful.
We regularly offer both private and public classes to fit your schedules. Our classes are available online as well and are offered in both English and Spanish.
Our highly-trained instructors incorporate real life examples into our class presentations and strive for interactive engaging learning experience to capture student's attention and understanding.  We are proud of the high pass rates achieved by our students.
We look forward to working with you and helping you solve your training needs.
Download the pdf of our Who We Are flyer.


John Gescheidle, President and Founder: has dedicated his 21 year career to the hospitality industry, specifically in education and training. John began his successful career with The National Restaurant Association Educational Foundation directly involved with development and marketing of their food safety and alcohol awareness programs. Since then, John continues to teach in hospitality programs and continuing education programs at the post secondary level. John's expertise lies in the development and implementation of all the training programs Food Safety Solution offers. John is currently an approved sanitation instructor and proctor for the National Restaurant Association, the Illinois Department of Public Health, the Wisconsin Department of Public Health and for Thomas Prometric. John is also approved to teach Illinois Basset program through The Illinois Liquor Control Commission and the TIPS program through Health Communication. In 2017, John took classes and became an AllerTrain Certified Master Trainer. John's commitment to training and educations stems from his membership in the Illinois Foodservice Executives Association, the Illinois Environmental Health Association and The Illinois Hotel and Lodging Association. John currently is on the Advisory Committee for Lake County High Schools Technology Campus and Harper College.  John has his Bachelors of Science from Kendall College and his Masters from Regis University.
John can be contacted via email at: john@foodservicesafe.com


Liz Gescheidle, Marketing and Administration:  Liz has also dedicated her career to the hospitality industry through working in several restaurants and for The National Restaurant Association Educational Foundation and The Industry Council on Food Safety. As the Council Vice President, Liz spearheaded its mission of promoting food safety education and training throughout the United States. She worked closely with all segments of the restaurant industry, including operators, distributors, manufacturers and associations. Throughout her career, Liz has been an active member of the Woman's Foodservice Forum, the International Foodservice Manufacturing Association and was a founding board member of the Multicultural Foodservice Alliance. She has a Bachelors of Art Degree from the University of Michigan.
Liz can be contacted via email at: Liz@foodservicesafe.com