How to Obtain Your Food Safety Manager Certification from the Illinois Department of Public Health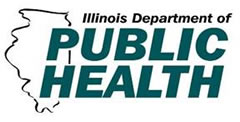 Effective 10/17/16 – The Illinois Department of Public Health (IDPH) have eliminated all paperwork and certificates being sent into and out of their department and are moving to a totally online system.  Note – The City of Chicago Food Safety Manager application procedure has not changed.
Benefits:
Should greatly shorten the time needed to get the IDPH managers certificate. Once a student applies, their information will be verified within 5 days and the student should be emailed their IDPH certificate which they can download, save to their computer and print as many times as needed during the five years it is valid.
Soon companies will be allowed to pay for their employee's certificates, but this procedure is still being worked on and no due date is available.
Note: You must have a personal email address that is not being used by someone else in the online application system. For example, you cannot use your employer's email address. If you do not currently have an email address, there are several options to set one up for free. For example, (but not limited to) www.yahoo.com, www.gmail.com and/or www.hotmail.com
For instructions on setting up a free Gmail account click here.
Here's the steps to obtain the IDPH manager certificate.
During our FSSMC classes, you will take the SERVSAFE exam. Once you pass, within about 7- 10 days, you will be able to electronically download you SERVSAFE certificate from the National Restaurant Association web site servsafe.com.
The SERVSAFE certificate is nationally accepted and meets the requirement for the Illinois Department of Public Health (IDPH) Certificate, Chicago Department of Public Health (CDPH) and all neighboring states.
Save a copy of the certificate to your computer.
Go to the IDPH website at https://ildph.usasafeinspect.com/Login.aspx

If you already have a user account, log in with your User Name and Password
If you are a new user, follow the directions on the screen to create a User Name and Password. Choose something for your User Name that you will easily remember, such as, your email address. You will need to enter your last four digits of your social security number, answering the child support question and apply for and pay for their IDPH certificate all online.

Once you are logged in to the website, to apply for a new Food Service Sanitation Manager Certification (FSSMC), hover your cursor over Certification in the blue bar across the top and select Certification List.
Click on the arrow in the box and select Food Service Sanitation Manager Certification (FSSMC) from the drop down.
For questions when completing the online application process, click on the link in the top right hand corner of your screen.
Once your application is submitted online and approved by the Illinois Department of Public Health, you will receive an email (to the email address you provided) stating your application is approved. The approval process could take up to 5 business days.

The email will contain an attachment of your Food Service Sanitation Manager Certificate (FSSMC) that can be saved to your computer and/or printed.
The email will also contain a link to click on to go to the website to log back into your account with your User Name and Password and you can download and save and/or print your certificate at any time
In addition to the $35 fee for your certificate, there is an additional $1 processing fee. If you are purchasing a prepaid debit card to use to make the online payment for your certificate, ensure you have $36 available on the card.
The State of Wisconsin has eliminated their application process and now just requires the posting of a valid ANSI approved certificate such as the SERVSAFE certificate.
NOTE: If you passed the certification exam prior to September 1, 2016 but lost or never received your IDPH application in the mail, you will still need to apply with a FSSMC paper Application form.  Additionally, if you are requesting a duplicate copy of your IDPH Certificate that was prior to September 1, 2016 you will need to apply with a FSSMC paper Application Form.
______
For further details visit: http://www.dph.illinois.gov or Contact us at Foodservice Safe at 866.44.Safety (866.447.2338)